The 24th edition of "The Champions of the Sea 2017" has just ended, which witnessed our agency once again awarded as Best Web Agency. The ceremony took place on the board of Costa Pacifica from 2 to 5 April 2017 departing from Savona for a 3-night Western Mediterranean cruise.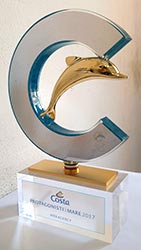 On board the most important representatives of the company awarded the Best Travel Agents in 2016 among over 1,600 participants. The "The Champions of the Sea" was the occasion to present the new catalog for the Cruises 2018/2019. In fact, next season there will be many new itineraries, and above all new menus which were presented directly by the award-winning Chef Bruno Barbieri. The event also had a great impact on social media, where it was carefully followed with the hashtag #Protagonistidelamare. Let's find out some news presented during the ceremony.
The New Ships
The new ships of Costa Cruises are expected in 2019, of which not many details have been revealed yet, but these will be known as Green. In fact, these new ships will be fueled by Liquefied Natural Gas, a very clean fossil fuel that respects the marine environment. The names are still an absolute secret but we know that there will be over 75% of the cabins with private balconies.
The Routes
In the upcoming 2018/2019 season, it will be possible to explore exotic destinations, such as Japan, Malaysia and Thailand, on board of Costa Cruises with the flight formula including fly & cruise, which has already been very successful for the Maldives itineraries.
The Champions