Cruising is a great way to spend a holiday since there's a world of opportunities at your fingertips. As 2018 slowly approaches, Carnival Cruise Line are getting ready to reveal the latest addition to their luxury liners: the Carnival Horizon. As the Cruise Line's second Vista-class of ships, the Horizon promises each and every one of her passengers a magical adventure. The 133,500-ton vessel can accommodate up to 3,936 passengers as well as 1,450 crew members. In this post, we'll be taking an in-depth look at what's on offer and why the Horizon is set to be one of Carnival Cruise Line's biggest hits ever. After reading this information, we hope you'll be enticed to go right ahead and reserve your space for one of the mesmerizing cruises onboard the luxury vessel!
Accommodation Onboard the Carnival Horizon
Passengers embarking on a cruise onboard the Horizon can look forward to leisurely accommodation, ranging from the Havana Staterooms and Suites to the Family Harbor Staterooms. There are also the Cloud 9 Spa Staterooms along with a wide range of other, more affordable rooms to choose from. The most affordable rooms are the inside cabins. Room rates increase (but so does the luxury) when you move on towards the outside cabins, balcony cabins, and finally, the suites and mini-suites.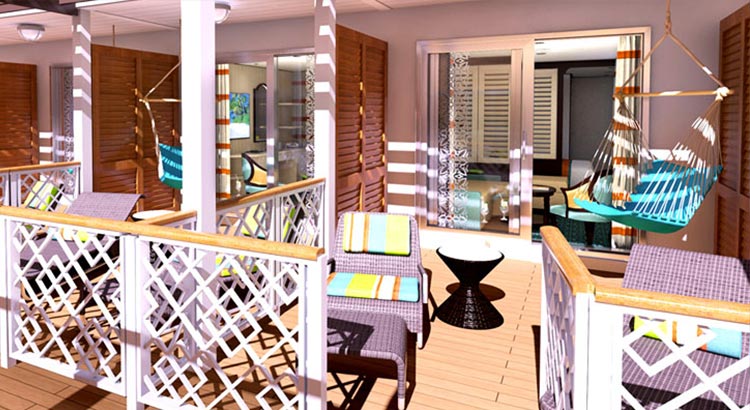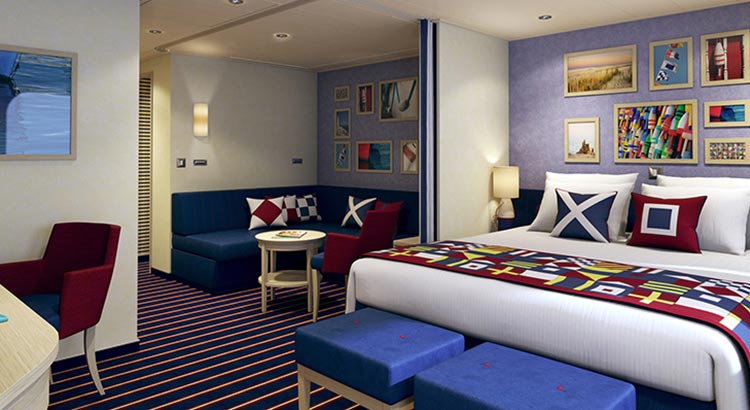 Dining Onboard the Carnival Horizon
When it comes to dining options onboard the Horizon, you'll be able to indulge in an abundance of delicacies on offer from a variety of eateries and restaurants. The Seafood Shack is a great option for passengers looking to grab a rustic meal such as a crab cake slider. Then there's also Fahrenheit 555 Steakhouse, which is the ship's go-to destination for all things steak. For the more discerned diner, there's The Chef's Table with its selection of fine delicacies to choose from. Here are some other great restaurants that you're bound to be captivated onboard the Horizon: ' Reflections Restaurant ' Horizon's Restaurant ' Bonsai Sushi Bar ' Fat Jimmy's C-Side BBQ ' Guy's Burger Joint ' Blue Iguana Cantina ' Ji-Ji Asian Kitchen.
Entertainment Onboard the Carnival Horizon
Carnival Cruise Line are known for offering an abundance of onboard entertainment throughout their various vessels, and with the Horizon, there's no exception to the rule. To kick things off, the Horizon is home to the SkyRide, an open-air, pedal-powered aerial ride. Going on the ride will require passengers to "cycle" a suspended bike around an 800ft suspended track, 150 feet above sea level. If you're not such an extreme adrenaline junkie, the entertainment options surely don't stop at the SkyRide.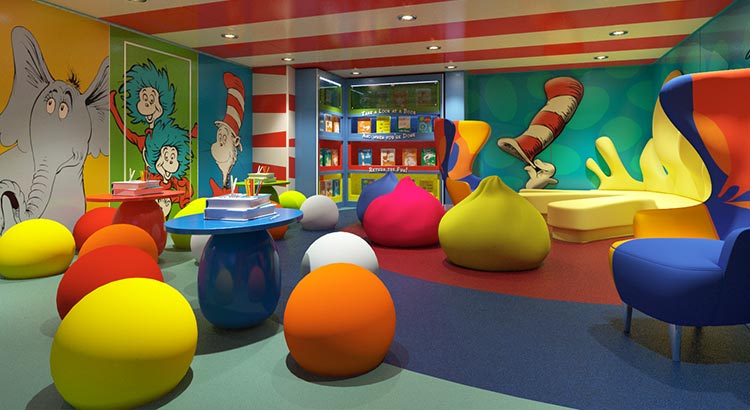 Here are some of the amazing entertainment options onboard the Carnival Horizon: ' Stage Shows ' SportSquare ' Skydeck ' IMAX Theatre Leisure Onboard the Carnival Horizon The Havana Bar & Pool is almost like a paradise during the day but becomes a hot dance venue as soon as the sun goes down. The selection of handcrafted Cuban cocktails offered at the bar are amazing, but if you're not an avid cocktail fanatic, the pool (with an ocean view and amazing atmosphere) is right there to keep you relaxed all day long. If you're not a Havana Club Member, here are some of the other leisure activities you can look forward to onboard the Carnival Horizon: ' Cloud 9 Spa ' Serenity Adults Only Retreat ' Dr. Seuss WaterWorks Park Bars and Lounges Onboard the Carnival Horizon.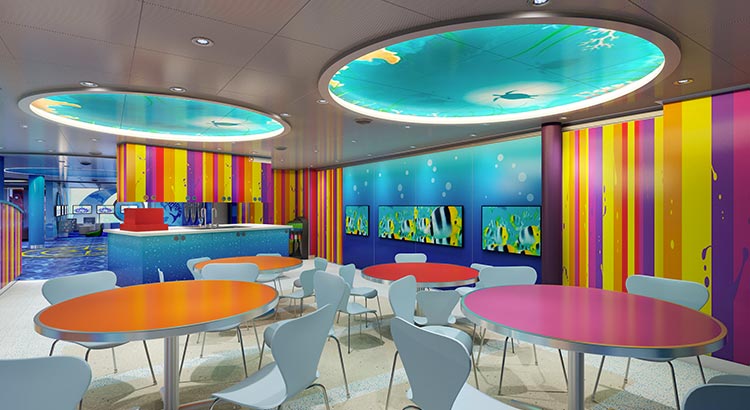 There's nothing quite as relaxing and captivating as enjoying a proper sundowner onboard a luxury ocean liner, and the Horizon definitely doesn't have a shortage of bars and lounges to do just that. Some of the bars and lounges you can look forward to discovering include: ' Alchemy Bar ' Horizon Lobby Bar ' Tides Bar ' Red Frog Rum Bar ' JavaBlue Cafe ' SKYBOX Sports Bar Gambling Onboard the Carnival Horizon No cruise liner would be complete with an onboard casino. The Horizon Casino features over 180 slot machines, 18 Gaming Tables, Blackjack and Slots tournaments, and a variety of other in-house entertainment options to keep players enticed. Be sure to check into the Casino once you board the vessel to see what exciting games and tournaments they have on offer! Kids Cruising Onboard the Carnival Horizon Kids and teens can look forward to an amazing time onboard the Horizon. The cruise liner has its very own waterpark (Dr. Seuss WaterWorks) as well as an exclusive Kids Club and a SportSquare where kids can play to their hearts' content.
Sport and Fitness Onboard the Carnival Horizon
The Horizon has its own Fitness Centre, equipped with the latest and greatest equipment. There are also various exercise classes in which passengers can join, or perhaps they're more comfortable with a jog around the SkyTrack Outdoor Jogging Track. Here are some of the other great sport and recreation attractions you might enjoy onboard the Horizon: ' SportSquare Clubhouse (with mini-bowling, ping-pong, and arcade basketball) ' Mini golf ' Beach Pool and Whirlpools ' Tides Pool and Whirlpools Cruise.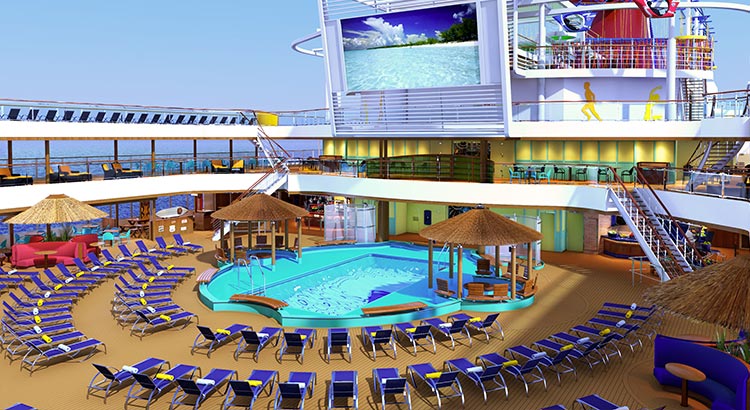 Destinations with the Carnival Horizon
The Carnival Horizon will set sail across six continents, passing countless countries in the process. Boarding one of its cruises might see you viewing the likes of Croatia, the Bahamas, Northern Europe, Canada, the Caribbean, the Mexican Riviera and New England, to name but a few.
Launching of the Carnival Horizon
The Carnival Horizon is set to launch from Europe on its maiden voyage in March 2018. From there, it will undertake four Mediterranean cruises from Barcelona before it retreats to New York. After anchoring in New York, the Horizon will set sail on a Caribbean adventure before making its way towards Miami, which is when the annual six-and-eight night Caribbean cruises will commence, starting in September 2018. Why You Need to Cruise Onboard the Carnival Horizon Anticipated to be one of Carnival Cruise Line's most captivating passenger liners, the Horizon offers a little something for everyone.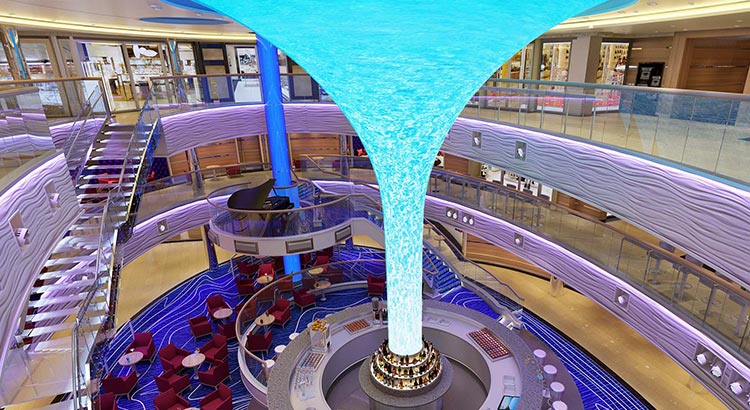 They have all the luxuries onboard that a discerned traveler could ever need, but they also cater to budget-conscious passengers and those traveling with their families. With prices starting from $245 per person, your ticket includes your accommodation, free access to production shows, live music and entertainment, access to the fitness center, access to all water attractions, dining options for breakfast, lunch, and dinner, free room service, free soft serve ice cream and frozen yogurt, and free, non-alcoholic beverages.
Wrapping It Up. We hope that you enjoyed reading this post and that it has got you amped and ready to book your tickets for a cruise of a lifetime. A cruise can be the ultimate getaway, and with a little bit of careful planning, you might be one of the lucky passengers enjoying the amazing maiden voyage of the captivating Carnival Horizon.