New exclusive gourmet and travel experiences both on board and on land are available for the cruise passengers to the Caribbean due to the partnership between MSC Cruises and Martha Stewart announced recently. As an internationally renowned home and lifestyle expert, Martha Stewart is also an Emmy Award-winning television host, an entrepreneur and an author of 94 bestsellers.
The cooperation, themed "Celebrate", "Discover" and "Experience", includes the excursions onto Caribbean coasts to discover the hidden and authentic heart of these lands, gift packages for surprise parties, menus and special recipes for dinners on board.
About how the idea of this partnership was born, the CEO of MSC Cruises Gianni Onorato explained, "We are committed to conceiving and developing the travel experiences that could enrich our guests: this is why we collaborate with the experts at world level in their field to create something together of truly unique. The philosophy of Martha Stewart and her passion for experimentation are a perfect combination. We are excited to be able to take advantage of her talents, her style and her competence to offer cruise passengers unforgettable moments to share with friends and family."
Millions of people currently rely on Martha Stewart as a source of useful information for every aspect of everyday life: cooking, entertainment, gardening, home renovation, organization, crafts, holidays, healthy living and pets. The Martha Stewart brand reaches around 100 million consumers every month through all the media and merchandising platforms. Its products are found in over 70 million families and there is a growing retail presence in thousands of locations.
Martha Stewart & MSC Cruises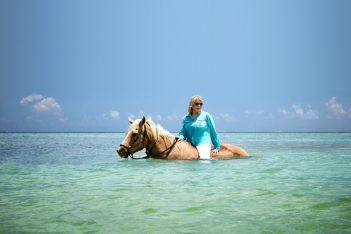 The excursions provided by Martha Stewart & MSC Cruises involve several destinations in the Caribbean and various special activities, such as practical cooking lessons, tastings of local specialties, horseback
Martha Stewart & MSC Cruises riding in the ocean, excursions in hidden bays, visits to craft markets, lessons from local fishermen and visits to beautiful gardens.
These are the tours highlighting the main characteristics of a destination by visiting favorite places of the local inhabitants and listening the story of their culture.
Starting from 1 June, the excursions will be available in all the destinations carried by the MSC Seaside and MSC Armonia ships, which include: San Juan, Puerto Rico; Nassau, Bahamas; Philipsburg, Saint Maarten; Charlotte Amalie, St. Thomas, Virgin Islands; Ocho Rios, Jamaica; George Town, Cayman Islands; Cozumel, Mexico; Costa Maya, Mexico and Roatan Island, Honduras.
Starting from November 2019, further excursions will be available in the destinations planned by MSC Divina and MSC Meraviglia while sailing in the Caribbean. An excursion to the new private Ocean Cay Island MSC Marine Reserve is also planned, which will welcome its first guests in November 2019.
"I have always enjoyed introducing people in the search for new experiences and I am excited to be able to work with MSC Cruises on a partnership that embodies the true celebratory nature of travel, exploration and discovery," said Martha Stewart, "The excursions help guests discover some of the most authentic and hidden treasures of Caribbean destinations. Dinner menus and surprise gift packages include all the ingredients that make the celebrations special: great food, good company and great adventures to remember together in the future."